SOCCER IN SALTHILL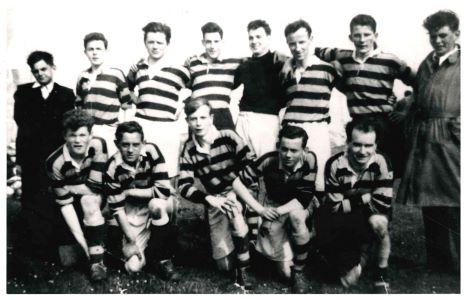 by Tom Kenny
The game of soccer in Salthill really began with Christy Gilbert. He formed a club in the early 1940's called Salthill Crusaders and they played for several years with some success. Some of the players associated with the club were Harry Lupton, Donal Murray, Frank Lydon, Arthur Stephens, Brendan Collins, Tommy Stephens, Billy and Leo Shaw, Donie Kelleher.
Our first photograph shows the Crusaders team of 1946. They are, back row, L to R; -- Molloy, Grattan Road; John Costelloe, the Royal Hotel; Bert Morrow, Lower Salthill; John Holland, William St.; Gerry O'Neill, Palmyra Park; Seán Sarsfield, Sarsfield's Hotel; Joe Brennan, Dalysfort Rd.; In front are Terry McCarthy, Lenaboy Gardens; Patsy Stephens, Kingshill; Mickey Walsh, Whitestrand Road; 'Hockey' Nestor, Fairhill ; Seán Fahy, Montpelier Terrace.
This club eventually disbanded and in the early 1950's, another club was formed called Salthill Athletic. Their colours were blue and white stripes. They soon had a very successful under-age squad, and in the two seasons, 1955/56 and 1956/57, they won all the local competitions. In the latter season, they had a very good run in the FAI under-18 cup, getting to the quarter finals. Early club meetings were held in Mrs. Shaw's house in Lenaboy Park. Practices were held in Salthill Park with Bart Faherty providing dressing room facilities in his house. Some of the players involved were John Ryan, Billy McCarthy, Gus Murphy, Ned Nalty, Paddy Tomkins, Colie Rushe, Kieran Ryan, Vinny Fahy, Brian Delargy, Fran Holmes, Willy Laffey. The club gradually faded out at the end of the fifties.
Our second photograph shows their under-17 team of 1957. They are, back row; Donal Morris, Christy O'Connor, John Lillis, Chuck O'Donnell, Doug Molloy. In front are Paul Mannion, Gay Copperwhite, Danno Heaslip, Pete Faherty, Billy McCarthy and Tony Barrett.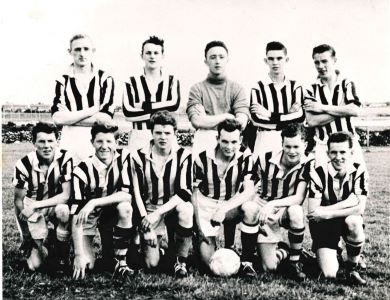 A game played in the Sportsground in July 1963 will surely rank as one of the highlights in the history of soccer in Salthill. To mark the visit of John F. Kennedy to Galway and Salthill, a Salthill Selection played an exhibition match against an Irish international selection. The Irish team which included Eamonn Dunphy, Andy McEvoy and Alan Kelly, won by 2 goals (Johnny Giles and Joe Haverty) to 1 goal scored by Ned Nalty.
By now, Salthill was growing, the population was increasing and a number of juvenile clubs were set up. Salthill Athletic reformed and Devon Celtic was founded. In 1977 these two clubs amalgamated under the name Salthill Devon. Sheer enthusiasm and a lot of hard work has gone into making this a very fine club that, happily, is still with us today. They developed a large under-age structure that has involved thousands of youngsters in the game over the years, they have had representatives on the Irish international schools team, the club have won many trophies and for many years, they organised the hugely popular annual Five-a-Side competition which was held in Salthill Park.
Finally, a request, would any of you readers have any material on the playing of water polo in Galway in the 1930's or 1940's, possibly photographs, news clippings, programmes or stories. I can be contacted through the Advertiser or at This email address is being protected from spambots. You need JavaScript enabled to view it..