JOSEPH GAYNOR, A GALWAY BUSKER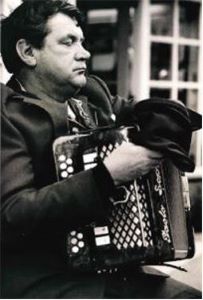 by Tom Kenny
Busking is the practice of performing in public places, street performances for tips or gratuities, voluntary donations. It may come from the Spanish word Buscar – to seek (fame and fortune) or the Latin word Buscare, to procure, to gain.
The earliest buskers were called minstrels or troubadours. A troubadour was a composer and performer of lyric poetry from the 11th century. A minstrel was a medieval bard who performed songs whose lyrics told stories about places or events, real and imaginary. Wandering minstrels fed into the later tradition of travelling entertainers which continued down to today's buskers. Some of the earliest Irish buskers would sing out on the street, then go from door to door hoping for a few pence, or maybe something to eat. Others would travel from fair to fair singing and selling ballad sheets. They sang in the open air with no acoustics or reverberations.
In Galway, about a hundred years ago, Johnny Doran and his family would play at the Races and later in the evening outside the Imperial Hotel where Paddy Philbin would dance to their music and draw big crowds. They were followed by the Reaney Brothers, travellers who played at fairs and also in the city. Later still, Race Week would not have been the same without the Dunne Brothers, known as 'The Blind Dunnes', three musicians with poor eyesight who travelled the country by horse and caravan. They were dignified men, gentle personalities but when they played, their music was full of passion and heart and spirit.
Today, busking can mean clowning, street theatre, sword swallowing, reciting poetry, street art, living statue, juggling, mime, acrobatics, drawing caricatures, balloon twisting, Irish dancing, unicycles, making a showy or noisy appeal – anything entertaining that might attract a crowd. Among the challenges are getting soaked, getting sunburnt, drunks, head-bangers, thieves, sometimes the Gardaí. There are people who stereotype buskers as being unemployed, homeless or beggars but some of the most engaging performers you will meet are buskers and many world famous performers started off their career busking.
Joseph Gaynor was born in Wicklow in 1921. He attended St. Joseph's School for the blind in Cabra and when he finished, he was given a present of an accordion which started him off on a life-long love of music. He played on O'Connell Bridge and at GAA matches in Dublin before moving to Galway in the 1960's to live with his sister and family in Henry Street. He began playing on O'Brien's Bridge before moving to a spot outside Corbett's on Williamsgate Street. When that shop was destroyed by fire he moved to outside Glynn's toy shop on William Street and played there almost daily for about 30 years. He was almost part of the street furniture. During the summer, he often played outside the Banba Hotel in Salthill. He was known for his good humour and his ability to play any tune on request whether country, classical or traditional. He used to have a brown leather pouch to protect his takings. The traders in William Street, especially Mary Bennett, took great care of him. He died in 1998 but many people still feel they can hear his ghost playing as they walk past the Treasure Chest today.
Finally, if you have not seen it already, we highly recommend you visit an exhibition that is hanging on the railings of St. Nicholas' Collegiate Church. It is a wonderful collection that illustrates the history of the church over 700 years and has been meticulously curated by one of its parishioners Christine Hunt. Anyone who is interested in the history of Galway should view this, and if you have no interest in such a history, this might well prompt you to start one.