Tim O'Leary's Shop, Lower Salthill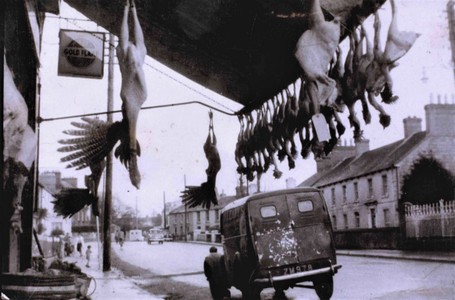 Tim O'Leary was a native of Roscommon who came to Galway to work as a buyer for Moons. He eventually bought this corner building opposite the Industrial School and changed it into a thriving business. It was a high-class grocery which sold fruit, minerals and all kinds of confectionery.
He operated it almost like a modern day supermarket in that you selected your own goods and brought them to the counter to pay. He had an ice cream saloon attached, "Try one of our 'Frigidaire' ices" and would prepare 'special gift parcels of sweets, chocolate, fruit and cakes at shortest notice for hotel guests'. He was a very entrepreneurial and imaginative businessman who worked very hard. He did deliveries all over Salthill and as most houses left the key in the door in those days, he would just walk in, put the groceries on the kitchen table and be gone quickly. My mother used to say she was always glad she was not in the bath when he arrived.
He would go to the market early every Saturday and buy a number of chickens, bring them home and then he and his staff would pluck and clean them and hang them outside the shop for sale. These fresh chickens were all organic and free range, full of flavour and sold quickly. As you can see from our photograph, he also bought and sold turkeys at Christmas time. And at that time of year, he would have the best display of boxes of chocolates in Galway. He would clear one wall and make special shelves and did a roaring trade. Indeed, his shop at Christmas was kind of like an Aladdin's Cave with a lot of Christmas Stockings on view. He always had on large such stocking in the window and this was raffled … with every penny worth of sweets you got a raffle ticket.
Tim and his wife also ran a small hotel with nine bedrooms …. 'Comfortable Board and Lodgings, Food of the Best, Cleanliness a Speciality, Students catered for during College Course'. It was very popular and no wonder, they served a three course breakfast, a four course lunch and in the evening, high tea with fruit cake. During the summer, they would rent rooms in nearby houses to sleep surplus guests.
Though the Industrial School was opposite, it made little impact on his business. He would see the boys going up St. Mary's Avenue (which was known to everyone in Salthill as O'Leary's Lane) to a field behind his house which the boys had sown with vegetables. Another group of the boys would pass carrying buckets accompanying a cart with a big tank on it. They were going to milk the cows the school had in a field opposite the Dominicans.
If the Industrial School did not make much of an impact on the business, some of the boys certainly made an impact on Tim. He was known to shelter and help some of them who were running away from the institution, and smuggle them out of Galway.
In the early 1950's Tim O'Leary decided to retire and sold the business to Mr. Stephens.