Old Galway
The Docker's Rugby Team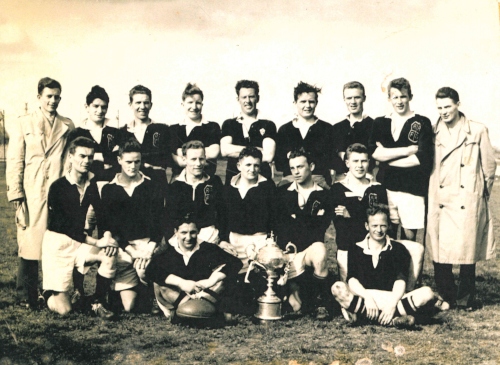 Galway Rovers Rugby Football club first played competitively in 1899. In 1907, they won the Connacht Junior Cup, which had been presented two years previously to the Union by Professor Alfred Senior. The club disbanded after that, probably during World War 1, but it was revived by a man named John L. Sullivan in 1931.
At the time, rugby was a very popular sport in Galway, Galwegians RFC had been in existence for a while as had UCG, Corinthians had just been formed, the Bish, St. Mary's and the Grammar all played rugby as did Salthill.
In the early days, they were given a clubhouse in the old Galway Steamship Company, and they wore green jerseys. They later changed their colour to black and were known as 'The Blacks'. The first team to represent the club was entirely made up of men who worked on the docks, so inevitably they became known as 'The Dockers'.
They moved their headquarters to the Claddagh Hall and they had their own pitch there, having been allotted an acre of land in the Swamp. Uniquely, they also had their own band, the docker's band were an addition to their games providing much energy and colour to matches while performing at other functions as well.
The club won the Junior Cup in 1935 and in 1936 and once again, they disbanded during the war years. They came back together for the 1946/47 season and quickly established themselves as one of the best junior clubs in the country. They won the Junior Cup again in 1950 and in the following decade, appeared in six finals, winning three of them. They would parade in triumph into town behind their band when they won. They were now attracting players from Shantalla, Bohermore and the Claddagh as well from the docks. Sometimes, when playing in College Road, they might not have a full team, so they would send across the road to the Duggan brothers, and you occasionally had a player lining out on the rugby pitch wearing Liam Mellows or Galway togs and socks. The club disbanded for good in 1961.
Today we have the 1957 team who won their 7th and last Junior Cup by beating Ballina in the final. They are, back row; Joe Ryan, Brendan Dowling, Tim O'Halloran, Frank Hayes, Brod Conneely, Noel Corcoran (c), Dom Maloney, Eamonn McGuire and Paddy Norman. Kneeling are Buddy Ward, Dermot McSweeney, Peter Folan, Tommy McCarthy, Des Crowley, Joe McGuire. In front are Donie Kelleher and Paddy Monahan. Dermot MacSweeney was probably wearing the Liam Mellows socks which is why he lined out at full back as 'D. Flaherty'. Eamonn McGuire became an outstanding international wing forward. Our thanks to Regina Power for this photograph.