Old Galway
The Church of St James, Barna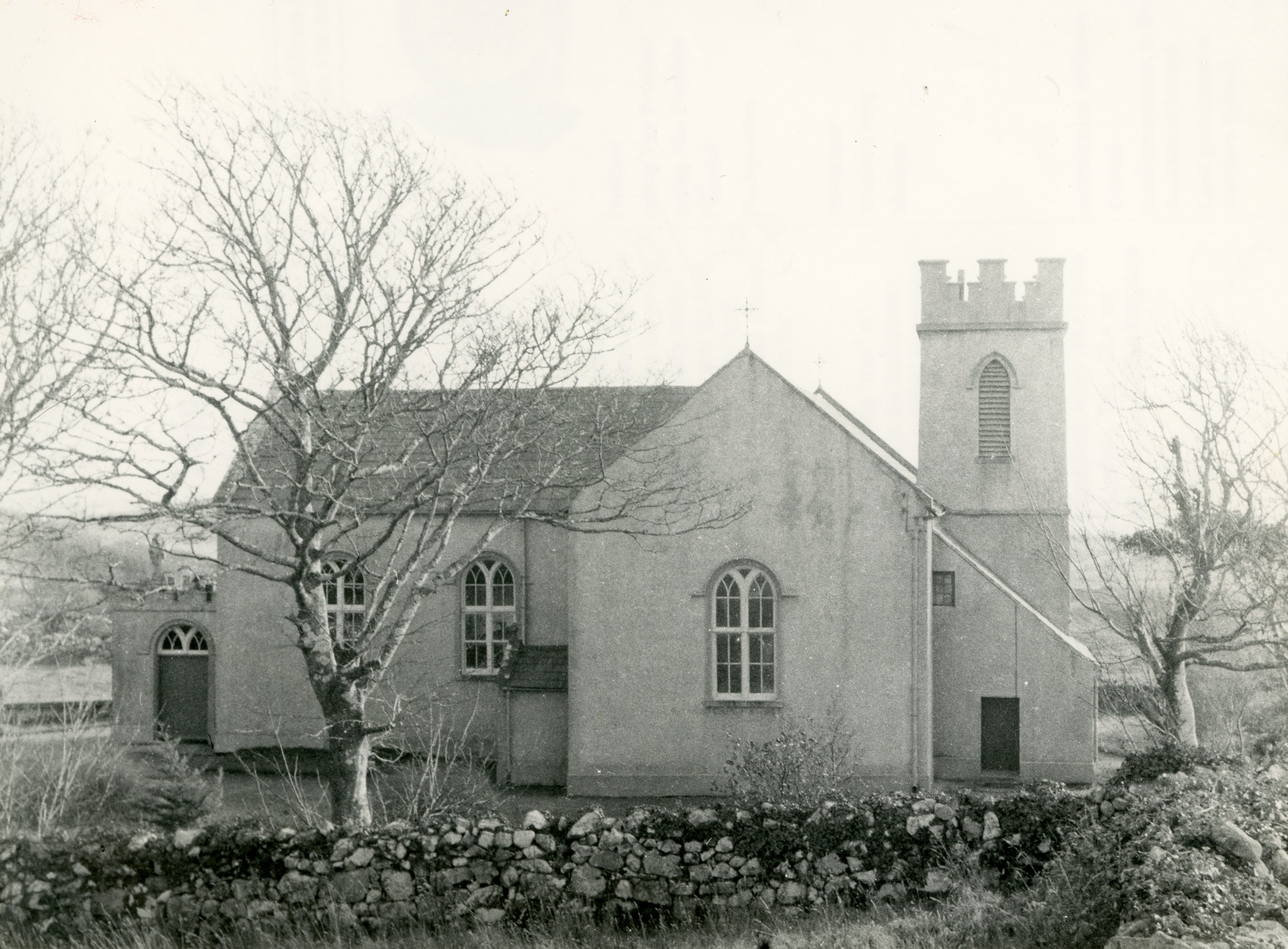 The first church in the Barna area that we know of was a small stone building with a thatched roof on the right of the road down to Silver Strand, just opposite the entrance to Tobar Éanna. You can still see some of the remains there. It was in use until December 1839. On June 4th, 200 adults were confirmed by Bishop Browne there.
The church in our photograph was named after St. James and was built in 1830's on the main Barna Road. The first Mass there was celebrated on January 5th, 1840. It was a T-shaped structure, rather than cruciform, with a small sacristy attached to the top of the T. It was easier to construct and the Sacristy was placed behind the Sanctuary. It was typical of churches built after the Catholic Emancipation and it was paid for and built by the local Landlords, the Lynch family from Barna House. There was a gallery level in the east end of the nave which was reached by a timber stairs. This and the entrance porch and floor were additions to the original basic church. In a number of similar churches there was a room either over or under the Sacristy where the priest actually lived.
The walls were thick masonry with narrow gothic windows and large Bangor slated laid to a steep pitch. The fabric of the church was strong but there were no architectural feature or decor of any merit in the interior. However the simplicity and the intimacy was a reminder that this was a pre-Famine church and gave the place a real spiritual atmosphere.
When the church was being demolished and the timber floor removed, a stone flagged floor was found underneath. These large Malbay flags were set to the base of the Lynch vault outside.
The Lynch family also paid for the construction of a boy's school across the road from the church (the girl's school was in the village) and for the tomb which was on the east side of the church. There are 6 members of the Lynch family buried there, Betsy who died in 1857; Nicholas, d.1862; Arthur d.1892; Blanche d.1908; Marcus D.L. d.1916 and Margaret M. d.1930.
This church was replaced by a new one designed by Peter Murphy from the office of Simon J. Kelly & Partners. It fits beautifully into the landscape. It contains some artefacts from its two predecessors and is dedicated to 'Mary, Immaculate Queen, and was formally opened by Bishop Eamonn Casey on March 6th, 1977, exactly 40 years ago this weekend.
Most of the above information comes from the excellent local history "Barna agus Na Forbacha" published by the local I.C.A. c.1980.