25%
OFF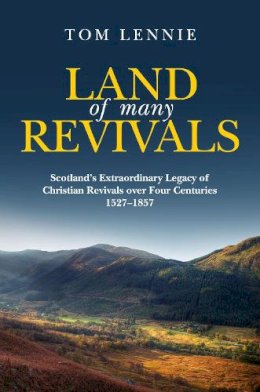 Land of Many Revivals: Scotland's Extraordinary Legacy of Christian Revivals Over Four Centuries (1527–1857)
Tom Lennie
FREE Delivery in Ireland
Description for Land of Many Revivals: Scotland's Extraordinary Legacy of Christian Revivals Over Four Centuries (1527–1857)
Hardcover. Scotlands Extraordinary Legacy of Evangelical Revivals Over Three Centuries 15271857. BIC Classification: HR. Dimension: 244 x 166 x 37. Weight in Grams: 1004.


Scotland has arguably the most varied, colourful and longstanding history of evangelical revivals in the world. Focusing on the period between 1527–1857 Tom Lennie provides an illuminating account of many an exciting time. Scotland's true revival legacy is wide and varied and Lennie draws on a variety of sources to bring together this comprehensive resource. Land of Many Revivals examines how revival happened in different ways across Scotland and looks at the legacy left in these communities.
Product Details
Usually ships in 4 to 8 working days
About Tom Lennie
A native of Orkney, Tom Lennie serves as Executive Editor of Prophecy Today UK. With a longstanding fascination with revival history, he is the author of 'Glory in the Glen', 'Land of Many Revivals', and 'Scotland Ablaze'.
Reviews for Land of Many Revivals: Scotland's Extraordinary Legacy of Christian Revivals Over Four Centuries (1527–1857)
This volume amply fulfils the promise of its title by surveying the vast range of religious revivals enjoyed in Scotland down to 1857. Tom Lennie has identified them with care and chronicled them with great sympathy.
David Bebbington (Professor of History, University of Stirling, Stirling) ...a historically accurate, theologically framed and inspirationally written page turner documenting the multiple and
... Read more
Goodreads reviews for Land of Many Revivals: Scotland's Extraordinary Legacy of Christian Revivals Over Four Centuries (1527–1857)