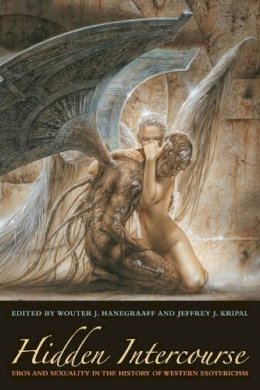 Hidden Intercourse
Hanegraff, Wouter J.; Kripal, Jeffrey J.
FREE Delivery in Ireland
Description for Hidden Intercourse
Paperback. Num Pages: 568 pages, 9 b&w illustrations. BIC Classification: HBTB; HRQC. Category: (UP) Postgraduate, Research & Scholarly. Dimension: 227 x 164 x 33. Weight in Grams: 758.
From rumors about gnostic orgies in antiquity to the explicit erotic symbolism of alchemical texts, from the subtly coded eroticism of medieval kabbalah to the sexual magic practiced by contemporary occultists and countercultural translations of Asian Tantra, the history of Western esotericism is rich in references to the domains of eros and sexuality. This volume, which brings together an impressive array of top-level specialists, is the first to analyze the eroticism of the esoteric without sensationalism or cheap generalizations, but on the basis of expert scholarship and attention to textual and historical detail. While there are few domains where the

... Read more
Product Details
Fordham University Press United States
Usually ships in 4 to 8 working days
About Hanegraff, Wouter J.; Kripal, Jeffrey J.
Wouter J. Hanegraaff (Author) Wouter J. Hanegraaff is Professor of History of Hermetic Philosophy and Related Currents at the University of Amsterdam, and a member of the Royal Dutch Academy of Arts and Sciences. Among his many publications is the two-volume Dictionary of Gnosis and Western Esotericism. Jeffrey J. Kripal (Author) Jeffrey J.
... Read more
Reviews for Hidden Intercourse
"A collection of essays addressing a doubly fascinating topic, namely, the intersection of the erotic and the esoteric in western culture from ancient Greece to contemporary California
where "west" meets "east," as the American counterculture supplements its already eclectic garb with the mantle of a refashioned Asian Tantra."
-Virginia Burrus Drew University "Hidden Intercourse is a book that turns people's
... Read more
Goodreads reviews for Hidden Intercourse