101 Irish Books You Must Read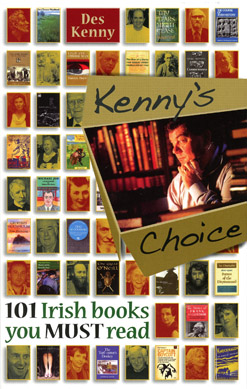 If you're looking for your next book recommendation, look no further than Des Kenny's list of 101 Irish books you must read!
Des's list includes novels, plays, poetry, memoirs, history, travel and Irish language books & features some of the very best of Irish writers including Synge, Carleton, McCowan, Tóibín and McGahern.
Below you'll find a selection of the 101 books & you can also buy '101 Irish books you MUST read' as a book - it makes for a great reference guide.
Des Kenny wrote the book as a tribute to his parents Des and Maureen Kenny & to authors, publishers, booksellers and book-lovers everywhere. Like any 'Best of' list, it is likely to surprise, intrigue and possibly infuriate readers for both its inclusions and omissions!
'The final selection has no rhyme or reason to it. It includes books that haven't been read for at least a generation as well as books that never got the attention they deserved. Some books were chosen not only because of their intrinsic merit but also because they represent an important aspect of Irish life and society.' - Des Kenny
"As enjoyable to read as it is to refer to, Kenny's evocative list deserves to be read and reread in its own right." CAHIR O'DOHERTY, Irish Central.
Here is a selection of the 101 books (in no particular order):
(Occasionally searches may return no result as books go out of stock; but these will reappear as we replenish. Cover images are for illustration purposes only.)