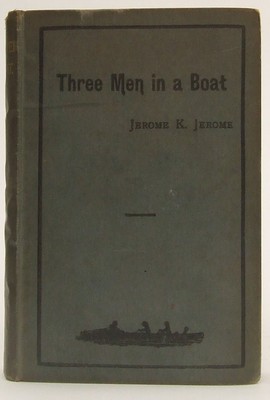 Three Men In A Boat (To Say Nothing Of The Dog)
Jerome K. Jerome
FREE delivery worldwide!
Shipping is temporarily suspended & orders will not be processed until current government restrictions are lifted
Description for Three Men In A Boat (To Say Nothing Of The Dog) Hardback. "Hardback. A. Fredericks (Illustrator) First Edition, second impression with 11 Quay Street given as address on title page. Original publishers later blue grey cloth with gilt titles to spine, black stamped title and silhouette of a boat to front cover. Some light toning to pages, very lightly rubbed to base of covers else a well looked after, tight, clean copy. Arrowsmiths 2/ - series advert to pastedown; two pages pub's adverts to rear, rector Books for Children; verso headed books by Andrew Lang. Arrowsmith's 3/6 Series, rear pastedown. Small bookdealer's label to front pastedown. Small 8v. pp.315. A neat POI to ffep in ink."
Product Details