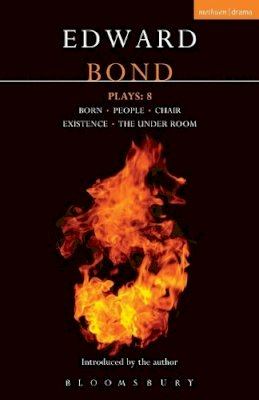 Bond Plays: 8: Born; People; Chair; Existence; The Under Room (Methuen Drama) (No. 8)
Edward Bond
FREE Delivery in Ireland
Description for Bond Plays: 8: Born; People; Chair; Existence; The Under Room (Methuen Drama) (No. 8)
Paperback.
Edward Bond Plays:8 brings together recent work by the writer of the classic stage plays Saved, Lear, The Pope's Wedding, and Early Morning. The volume comprises five new plays and two prose essays: Two Cups: introductory essay Born: the third play in the Colline Tetralogy (the first two of which appear in Edward Bond Plays:7); premiering at the Avignon Festival in July 2006. People: the fourth play in the Colline Tetralogy Chair: first broadcast on BBC Radio 4 in April 2000. Existence: first broadcast on BBC Radio 4 in April 2002. The Under Room: first staged

... Read more
Product Details
Usually ships in 5 to 9 working days
About Edward Bond
Edward Bond's grim portrait of urban violence, Saved (1965), in which a baby is stoned in its pram, aroused much admiration as well as a ban from the Lord Chamberlain. His provocative plays include Early Morning (1969), Lear (1971), The Sea (1973), The Fool (1975), Restoration (1981), Summer (1982), The War Plays (1985) and Olly's Prison (1992)].
Reviews for Bond Plays: 8: Born; People; Chair; Existence; The Under Room (Methuen Drama) (No. 8)
"'The greatest of post-war British playwrights' Lyn Gardiner, Guardian"
Goodreads reviews for Bond Plays: 8: Born; People; Chair; Existence; The Under Room (Methuen Drama) (No. 8)