Joe Burke
Details

23 February 2021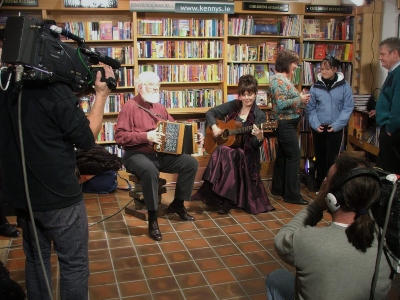 We are all very sad and lonely after the news of the passing of the great Joe Burke at the weekend. He is pictured here playing a few tunes together with his wife Ann, in the bookshop in 2005. Tom Kenny remembers him here.
Joe Burke was a national treasure, a box player like no other with a style of his own, a virtuoso who influenced countless musicians, a true seanachie capable of throwing in an odd shaggy dog story, a lover of Galway hurling, an erudite and very funny and gentle man who loved life, always with a glint in his eye. His passing at the weekend had left an enormous vacuum especially in traditional music circles.
Ní bheidh a leithéad ann arís. Go dtreoraí ceol na n-aingil isteach sa bFhlaithis thú Joe.