2017 - Haiku by Little John Nee, Galway Poetry Trail
Details

25 April 2017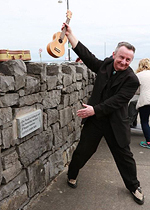 Lots of laughter at the unveiling of Little John Nee's Haiku on Galway Prom, the latest plaque on the Galway Poetry Trail - Sunday 23rd April 2017.
There to launch the plaque were Sunny Jacobs and Peter Pringle, both of whom wrote celebratory haiku for the occasion (see the extended YouTube video below).
John Nee is an Irish storyteller, actor, musician and playwright who is more commonly known by his stage name Little John Nee. John is also famous for playing the part of Postie in TG4's silent comedy Fear an Phoist.
---
Enjoy Little John Nee's 'Song of the Moment', created on the spot at the plaque unveiling (from Facebook):
Little John Nee event photos post from Facebook:
Enjoy the full unveiling event video from YouTube: