Sara Baume reads from 'spill simmer falter wither' at Kennys
Details

02 February 2015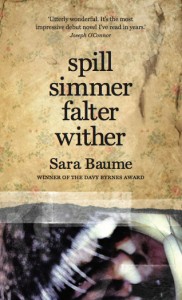 It was an absolute pleasure to meeet award winning author Sara Baume when she visited Kennys Bookshop last week in advance of the February 1st release of her already lauded novel 'Spill Simmer Falter Wither'.
---

You find me on a Tuesday, on my Tuesday trip to town. You're sellotaped to the inside pane of the jumble shop window. A photograph of your mangled face and underneath an appeal for a
COMPASSIONATE & TOLERANT OWNER, A PERSON WITHOUT OTHER PETS & WITHOUT CHILDREN UNDER FOUR.
Part Kjersti Skomsvold, part Patrick McCabe, Spill Simmer Falter Wither is a wholly different kind of love story that spans the four seasons echoed in the novel's title. Written with tremendous empathy and insight, Baume's debut captures the incremental destructive essence of loneliness, and confirms the talent so emphatically acknowledged by the Davy Byrnes Award jury.
'Utterly wonderful. It's the most impressive debut novel I've read in years.' Joseph O'Connor
'The writing is superb ... I had an image of all of language standing to attention, eager to serve this writer' Mary Costello
'An exceptional, startling, and original book' Colin Barrett
'Unbearably poignant and beautifully told' Eimear McBride
"Spill Simmer Falter Wither" is an amazing debut novel and signals the advent of a bright new literary voice. Whether or not this 'New Kid On The Block' out-Joyces Joyce, out-sells J.K. Rowling or out-writes Charles Dickens remains to be seen, ach mar a deir an seanfhocal "Tús maith leath na hOibre". Des Kenny
To view Sara reading for us in Kennys Bookshop, click image below or follow this link watch on YouTube. (and if this short reading from the prologue sparked your curiosity why not also watch a longer excerpt of 'Spill...' read by Sara Baume in Kennys.)