Pippa Middleton signs six figure deal for book on how to entertain
Details

03 September 2012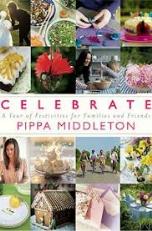 Pippa Middleton – the sister of Britain's Duchess of Cambridge - has written a book about a subject close to her heart - entertaining.In the book she presents menus, activities and ideas throwing parties.She also offers advice on party supplies, food preservation and flower arrangingShe has penned what her publishers have described as a "comprehensive seasonal guide to simple and creative entertaining".
---
Since her starring role as maid of honour at her big sister's royal wedding last year, the 28-year-old has proved popular with newspapers and her appearances at everything from fashion shows to film premieres have been well documented.Pippa is pictured a number of times on the cover of the book called Celebrate, but may face accusations from critics she is benefiting from her sister's high profile.She appears to have put her time working for her parent's online party accessories business to good use, drawing on the things she has learnt to write the book.
Speaking ahead of its release in October by publishers Michael Joseph, she said: "This book is designed to be a comprehensive guide to home entertaining, based on my experience in my family's party business, Party Pieces, and work for London-based events company, Table Talk."It is a useful and practical journey into British-themed occasions and I hope it offers welcome inspiration and ideas, most of which needn't leave you alarmingly out of pocket."Miss Middleton has reportedly negotiated a six-figure book deal with her publishers so more books may follow.Louise Moore, managing director of Michael Joseph, said: "Pippa Middleton's first book is a truly inspiring treasure trove of fun ideas and creative suggestions for key celebrations throughout the year."
Article taken from Irish Independent