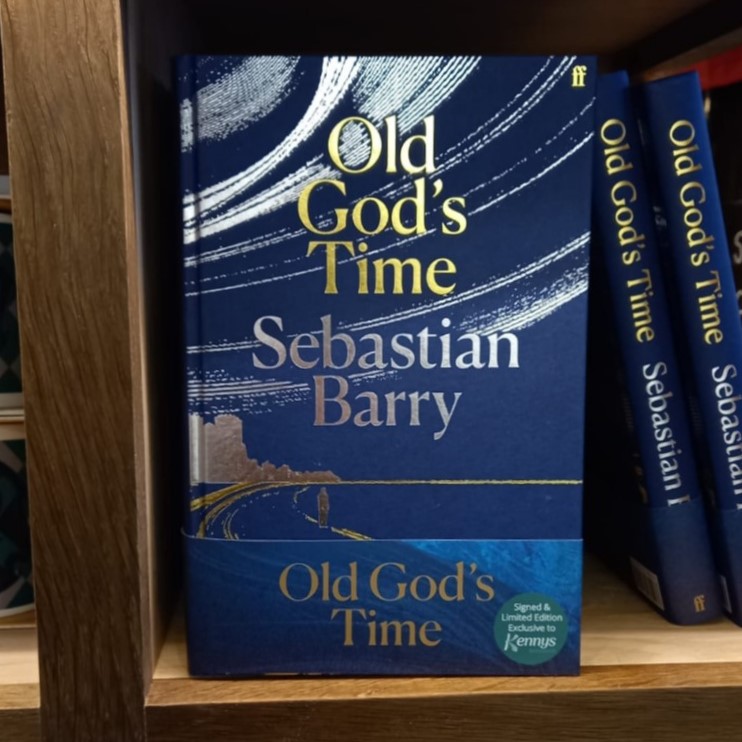 Kennys Exclusive Signed Limited Edition
of new SEBASTIAN BARRY
Signed & Numbered by the author
Exclusive essay by Barry, not in any other edition
OUT NOW!

Order your copy!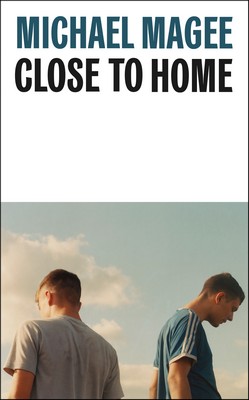 Kennys Signed Limited Edition
of MICHAEL MAGEE's debut
Signed & numbered by the author
Exclusive interview & dustjacket

Order now!
28%
OFF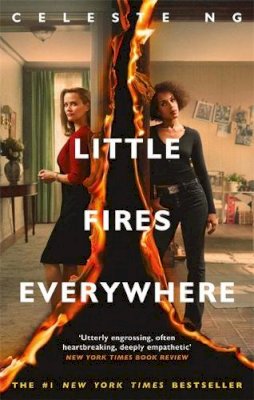 Little Fires Everywhere
Celeste Ng
FREE Delivery in Ireland
Description for Little Fires Everywhere
Paperback.
A MAJOR AMAZON PRIME TV SERIES 'Just read it . . . Outstanding' Matt Haig 'To say I love this book is an understatement . . . It moved me to tears' Reese Witherspoon 'Beautifully written, completely charming, and extremely wise on the subject of adolescence and influence' Nick Hornby Everyone in Shaker Heights was talking about it that summer: how Isabelle, the last of the Richardson children, had finally gone around the bend and burned the house down. In Shaker Heights, a placid, progressive suburb of Cleveland, everything is meticulously planned - from

... Read more

the layout of the winding roads, to the colours of the houses, to the successful lives its residents will go on to lead. And no one embodies this spirit more than Elena Richardson, whose guiding principle is playing by the rules. Enter Mia Warren - an enigmatic artist and single mother- who arrives in this idyllic bubble with her teenage daughter Pearl, and rents a house from the Richardsons. Soon Mia and Pearl become more than just tenants: all four Richardson children are drawn to the mother-daughter pair. But Mia carries with her a mysterious past, and a disregard for the rules that threatens to upend this carefully ordered community. When old family friends attempt to adopt a Chinese-American baby, a custody battle erupts that dramatically divides the town - and puts Mia and Elena on opposing sides. Suspicious of Mia and her motives, Elena is determined to uncover the secrets in Mia's past. But her obsession will come at an unexpected and devastating cost . . . And if you loved Everything I Never Told You and Little Fires Everywhere, pre-order Celeste Ng's brilliant new novel, Our Missing Hearts, now

Show Less
Product Details
Usually ships in 2 to 4 working days
About Celeste Ng
Celeste Ng is the #1 New York Times bestselling author of Everything I Never Told You and Little Fires Everywhere. She is the recipient of fellowships from the National Endowment of the Arts and the Guggenheim Foundation, and her work has been published in over thirty languages.
Reviews for Little Fires Everywhere
Little Fires Everywhere is a straight-up thriller...From the beginning, Ng's confident use of the omniscient voice signals that this is a writer in total control...While the plot whisks you breathlessly along, it lays out the bones of a debate about race and parenthood
Sunday Times, Pick of the Paperbacks
Just finished Little Fires Everywhere by Celeste Ng and
... Read more
now I feel bereft
Nigella Lawson
Just read it. It's a masterclass in characterisation. Outstanding
Matt Haig
To say I love this book is an understatement. It's a deep psychological mystery about the power of motherhood, the intensity of teenage love, and the danger of perfection. It moved me to tears
Reese Witherspoon
The book of the moment
India Knight, Sunday Times
I am loving Little Fires Everywhere by Celeste Ng. Maybe my favorite novel I've read this year
John Green, author of The Fault in Our Stars
Little Fires Everywhere is already setting America ablaze...it held me completely, from start to finish - held me in the sense that even when I wasn't reading it, some part of my head was straining to find out where it would lead next...what will absolutely ensure the success of this book is that while the plot whisks you breathlessly along, it lays out the bones of a debate about race and parenthood - a debate in which Ng deftly, dutifully ensures that everyone has a point
Sunday Times
A burning house sparks tensions within an all-too-perfect suburban community in a story exploring race, identity and family secrets...She manages the impressive feat of allowing us simultaneously to sink into the world she creates and boggle at its naivety and self-satisfaction...At the same time, the pace and structure of the story keep us turning the pages...This is a novel that convinces and compels; it's a pleasure to read
Guardian, Book of the Day
A free spirit shakes up a complacent community in this wry, beautifully observed novel...One of Ng's strengths is that she makes virtue and normality as fascinating as venality and eccentricity...It is beautifully written
The Times
It's hard to sum up in this limited space just how fabulous this book is - but trust us, you do not want to miss it. It explores mother-daughter relationships, teen angst, race, love and more, and there's a rumbling corker of a plot twist....Totally unforgettable
Heat's Unmissables
The must-read: Take a break from screen time with the hot (literally) new release from Celeste Ng, Little Fires Everywhere. About the arrival of a mysterious mother-daughter duo to white picket suburbia, it's a bona-fide page-turner
Elle UK
The story is brilliantly told, Ng's bright prose glowing with warmth and wisdom as she delves into the complexities of motherhood, convention and creativity
Sunday Express
Little Fires Everywhere brims with unexpected diversions and riches...Like Sue Monk Kidd or Madeleine Thien, Celeste Ng has a carpenter's sure touch in constructing nested, interconnected plots, There are few novelists writing today who are as wise, compassionate and unsparing as Ng, about the choices you make, the ones you don't, and the price you might pay for missed lives
Financial Times
Celeste Ng's second book should have been on next year's best novels list, but it was so successful in America that its UK publisher brought it forward several months. Shaker Heights, a complacent Ohio suburb, is shaken up by the arrival of the bohemian photographer Mia Warren. Arson and a child custody battle ensue. It's a gripping read and is sure to become a book club staple (if it's not already). It has the celebrity stamp of approval too: Reese Witherspoon is making it into a mini-series
The Times, Best Fiction in 2017
Little Fires Everywhere (Little, Brown) is the second novel from Celeste Ng and manages to combine a thought-provoking story of race, belonging, motherhood and the cracked face of smug liberalism with the pace of a page-turner
Mariella Frostrup, the Observer Books of the Year 2017
Beginning with a house fire set by a teenager, the flames quickly spread across Celeste Ng's suburban idyll in Little Fires Everywhere (Little, Brown), a sharp and nuanced tale of race and family in 1990s America
Paula Hawkins, the Observer Books of the Year 2017
Ng sets up the story of two opposing families - one, the all-American dream; one, the bohemian idyll - and lets it rip. Jealousies, parental insecurity, teenage dreams and a small amount of arson all come to the surface in what has to be one of the best books of 2017. Our advice is to pick it up and read in one glorious night
Emerald St, Best Books of November
There's a huge buzz everywhere about Little Fires Everywhere on both sides of the Atlantic...Celeste Ng nails mother-daughter tensions perfectly...It's well-paced, mesmerising and likely to make you cry
Good Housekeeping Book of the Month
I'm currently telling anyone who'll listen that Celeste Ng's Little Fires Everywhere is one of my favourite books of 2017...Imagine Jane Austen transported to an upper middle-class suburb of nineties Ohio and you're on the right lines of Ng's incredible second book (her first, Everything I Never Told You, was named Amazon's book of 2014). ...Moving at a cracking pace with a central mystery to keep you hooked, Ng proves herself to be an artist at the height of her writing powers... this is The Great American Novel we've been waiting for. 5/5
THE VERDICT: Little Fires Everywhere is a must-read...Celeste Ng's dazzling second book wins this week. Having already wowed the US - fans included Roxane Gay, Judy Blume and Reese Witherspoon - buzz is building here. Scrap your next book club title, and get your hands on a copy of this
Stylist, Francesca Brown, Book Wars
Ng paces her narrative like a pro, consummately entwining multiple threads until each and every character is implicated in the denouement. Deeply satisfying to read
Independent
Celeste Ng is as hot right now as the title of her new novel. And Little Fires Everywhere is truly deserving of all the hype
Red online, Best Books to Read this November
My final recommendation of a book out in 2017 is Celeste Ng's Little Fires Everywhere, one of my favourite novels of the year..Ng is brilliant at crafting an all-consuming world, and I found her exploration of whether family is biology or love fascinating
Stylist
Beautifully written...A fantastic read and one of HELLO!'s books of the year
Hello
Ng pulls the reader deep into the seams of her character's individual lives and the result is a sumptuous feat of storytelling that satisfies on almost every level
Metro
Go to bed. Start reading Little Fires Everywhere by Celeste Ng and it's so good I don't even pretend I'm going to get an early night
Alix Walker, Stylist
This brilliant novel blazes from the first page...a custody battle over a disputed adoption is at the heart of the story but it's only one strand of an intricate plot that slowly burns through to an emotional conclusion. Fantastic stuff
Sunday Mirror
Parenting, politics, race and devastating secrets...the stage is set for a drama that will have you thinking long after the last page
Grazia
Witnessing these two families as they commingle and clash is an utterly engrossing, often heartbreaking, deeply empathetic experience, not unlike watching a neighbour's house burn....[Ng's] is a thrillingly democratic use of omniscience, and, for a novel about class, race, family and the dangers of the status quo, brilliantly apt
New York Times Book Review
This wise and wonderful book is compulsively readable
Psychologies
Ruthlessly dissecting families, motherhood and teens in one of the books of 2017
Emerald St
Once again, the plotting and pacing are nearly perfect, the characters believable and real. Ng is a master of family and societal dynamics, shifting perspectives, and the secrets that we try to protect - and readers who loved her debut will recognize the author in this second novel, even as she continues to stretch herself as a writer. We are now eagerly awaiting her next novel
An Amazon.com Best Book of September 2017
This novel is all about burning your world down and I loved it. There are lots of issues around identity, class and curiosity, especially during high school. It captures the wonder of being in someone else's world and realizing it doesn't remotely compare to what you thought was the norm for everyone. And the anger. I thought it was a brilliant take on growing up and the powerless feeling of being a teenager and waiting to start real life
iNews
Delectable and engrossing...A complex and compulsively readable suburban saga that is deeply invested in mothers and daughters...What Ng has written, in this thoroughly entertaining novel, is a pointed and persuasive social critique, teasing out the myriad forms of privilege and predation that stand between so many people and their achievement of the American dream. But there is a heartening optimism, too. This is a book that believes in the transformative powers of art and genuine kindness - and in the promise of new growth, even after devastation, even after everything has turned to ash
Boston Globe
Little Fires Everywhere brilliantly traces the fault lines of race and class that run beneath a small town...[and] echoes several themes from Ng's lauded 2014 best-seller, Everything I Never Told You, tracing the fault lines of race, class, and secrecy that run beneath a small Midwestern town. And again, calamity shatters a placid surface on the first page
Leah Greenblatt, Entertainment Weekly
Riveting...unearthing the ways that race, class, motherhood and belonging intersect to shape each individual...Perhaps Ng's most impressive feat is inviting the reader's forgiveness for Mrs. Richardson - a woman whose own mission for perfection, and strict adherence to rules ultimately become the catalyst for the maelstrom that ensues
Chicago Tribune
Stellar...The plot is tightly structured, full of echoes and convergence, the characters bound together by a growing number of thick, overlapping threads....Ng is a confident, talented writer, and it's a pleasure to inhabit the lives of her characters and experience the rhythms of Shaker Heights through her clean, observant prose. Before she became an author she was a miniaturist - almost too perfect for a writer of suburban fiction - and there's a lovely, balanced, dioramic quality to this novel. She toggles between multiple points of view, creating a narrative both broad in scope and fine in detail, all while keeping the story moving at a thriller's pace
LA Times
A riveting novel that pits a self-satisfied upper-middle-class blue blood against a struggling single-mom photographer
O Magazine, 'Ten Titles to Pick Up Now'
A wealthy surburban family watch their house burn as their bohemian best friends leave town for good. Opposites attract and also ignite in this thoughtful novel
People magazine, The Best Books of Fall
The literary community has seized on the book as a major 2017 release. Fault in Our Stars author John Green shared a rave: "I am loving Little Fires Everywhere by Celeste Ng," he tweeted Sunday. "Maybe my favorite novel I've read this year. Anyone else read it?" Acclaimed young novelist Esmé Weijun Wang called it an "impeccable, beautiful book," and Roxane Gay said directly to Ng last month, "I love your writing and am a fan." Bestselling authors Judy Blume and Caroline Leavitt, among many others, have also sung Little Fires Everywhere's praises on social media
Entertainment Weekly, Books
Like Everything I Never Told You, Ng's excellent debut, the book plots its way into a smart, accessible conversation about race and class. But free of the restraints of Everything's thriller construction, Little Fires gives Ng the space and patience to confront how progressive-minded communities approach identity
GQ.com
A quiet but powerful look at family, secrets, and running from the past. Once again, Ng has delivered a near-perfect novel
BookRiot
I read Little Fires Everywhere in a single, breathless sitting. With brilliance and beauty, Celeste Ng dissects a microcosm of American society just when we need to see it beneath the microscope: how do questions of race stack up against the comfort of privilege, and what role does that play in parenting? Is motherhood a bond forged by blood, or by love? And perhaps most importantly: do the faults of our past determine what we deserve in the future? Be ready to be wowed by Ng's writing - and unsettled by the mirror held up to one's own beliefs.
Jodi Picoult
Witty, wise and tender. It's a marvel
Paula Hawkins, author of Girl on a Train and Into the Water
Little Fires Everywhere takes us deep into other people's homes and lives and darkest corners. Along the way, Celeste Ng is always witty, engrossing, unsparing and original
Meg Wolitzer
Totally absorbing, each character drawn so well it makes it impossible to decide whose side you're on
Marie Claire
And so begins the build-up to the devastating conclusion - "little fires everywhere." Ng's uncanny ability to embody multiple viewpoints makes for a powerful, revelatory novel
bbc.com
Takes unerring aim at upper-middle-class America's blind spots...a nuanced study of mothers and daughters and the burden of not belonging to our families or our communities
Vogue
Ng's best-selling first novel Everything I Never Told You proved her deft hand at crafting family dramas with the deep-rooted tension of a thriller, a skill she puts to pitch-perfect effect in her latest entry...that is equal parts simmering and soulful
HarpersBazaar.com
One of the best novels of the fall is an emotional tale about motherhood, class and so much more... Everything I Never Told You, was good, but this is better
AARP.org
A captivating examination of motherhood, identity, family, privilege, and community
Buzzfeed
Both an intricate and captivating portrait of an eerily perfect suburban town with its dark undertones not-quite-hidden from view and a powerful and suspenseful novel about motherhood...As both Mrs. Richardson and Mia Warren overstep their boundaries, Ng explores the complexities of adoption, surrogacy, abortion, privacy, and class, questioning all the while who earns, who claims, and who loses the right to be called a mother. This is an impressive accomplishment
Publishers Weekly starred review
This incandescent portrait of suburbia and family, creativity, and consumerism burns bright... As in Everything I Never Told You, Ng conjures a sense of place and displacement and shows a remarkable ability to see - and reveal - a story from different perspectives. The characters she creates here are wonderfully appealing, and watching their paths connect - like little trails of flame leading inexorably toward one another to create a big inferno - is mesmerizing, casting into new light ideas about creativity and consumerism, parenthood and privilege. With her second novel, Ng further proves she's a sensitive, insightful writer with a striking ability to illuminate life in America
Kirkus Reviews (starred)
Ng's stunning second novel is a multilayered examination of how identities are forged and maintained, how families are formed and friendships tested, and how the notion of motherhood is far more fluid than bloodlines would suggest. Ng's debut, Everything I Never Told You (2015), was a book-group staple. Laden with themes of loyalty and betrayal, honesty and trust, her latest tour de force should prove no less popular
Booklist, starred review
Spectacular...A magnificent, multilayered epic that's perfect for eager readers and destined for major award lists
Library Journal (starred review)
As I read Celeste Ng's second novel I found myself thinking, again and again: how does she know so much? About all of us? How does she write with such perception, such marvelous grace, such daring and generosity? Little Fires Everywhere has the irresistible pace of an expertly tuned thriller, and the observational brilliance of lasting literature. It marks Celeste Ng as a writer of the first rank, among the very best in her generation - right there with Zadie Smith and Jacqueline Woodson. I was mad for this book
Joe Hill, author of The Fireman
Yes, it's the story of one Ohio town, but Little Fires Everywhere is not that familiar tale of the underside of the American suburb. It's a powerful work about parenthood and politics, adolescent strife and artistic ambition, and the stark choice between conformity and community. Celeste Ng possesses the remarkable ability to write about the most serious of subjects with the lightest possible touch
Rumaan Alam, author of Rich and Pretty
Little Fires Everywhere is a dazzlingly protean work - a comedy of manners that doubles as a social novel and reads like a thriller. By turns wry, heart-rending and gimlet-eyed, it confirms Celeste Ng's genius for gripping literary fiction
Peter Ho Davies, author of The Fortunes
As if it wasn't totally obvious from her stunning first novel, Little Fires Everywhere showcases what makes Celeste Ng such a masterful writer. The way she examines the complexity of place, and the people who inhabit that place, is some of the most virtuosic, compelling, and wise storytelling that I've seen in a long time. By looking so closely at this community, she opens up the entire world, and it's an amazing experience
Kevin Wilson, author of The Family Fang and Perfect Little World
Beautifully written, wry rather than supercilious, with plenty of little cliffhangers
The Times
Little Fires Everywhere is one of those books. One that you give to your mum and your best friend and your sister-in-law on their birthdays. Incidentally, it's also one of those books that Reese Witherspoon buys the rights to so she can turn it into a TV show starring her and Kerry Washington . . . This novel is a beautiful and complicated story about family, growing up and the secrets you keep from the world. But mostly, Little Fires Everywhere is about what, exactly, it means to be a mother
Lily Peschardt
The Pool
This compelling novel is a pleasure to read
Guardian
An intricate story of family, motherhood, friendship and finding where we belong
Grazia
A drama that keeps building and building, this is one novel you won't be able to put down. If you need more convincing, Reese Witherspoon and Kerry Washington recently announced plans to adapt the novel for TV - so get in there before it becomes an Emmy-winner!
Hello
Set in a 'perfect' town, Little Fires Everywhere opens with a house burning down and a family in tatters, before spooling back to see how the home's inhabitants ended up in this nightmare. Ng has an uncanny knack of sneaking big issues into what you thought was just a thriller
Grazia
Entrancing
Daily Mail
Little Fires Everywhere shows how art engenders empathy, in even the darkest corners of human experience . . .
East Anglian Daily Times


Show Less
Goodreads reviews for Little Fires Everywhere